This blog post is the first installment of a blog series about food-related objects in the Wesleyan Archaeology and Anthropology Collections!
From extravagant White House state dinners to family gatherings during the holiday season, food is simultaneously a performance, an expression, and a place where people can find common ground. Food is a powerful social and political tool that brings people together, a symbol that defines and distinguishes cultural identities, and something that can hold profound meaning for individuals and societies. For this month's blog post, we selected objects from the collections that were used in the preparation and presentation of food. Examining this material evidence reveals the significance of food to the customs and identities of the cultures that used each object.
Poi Pounder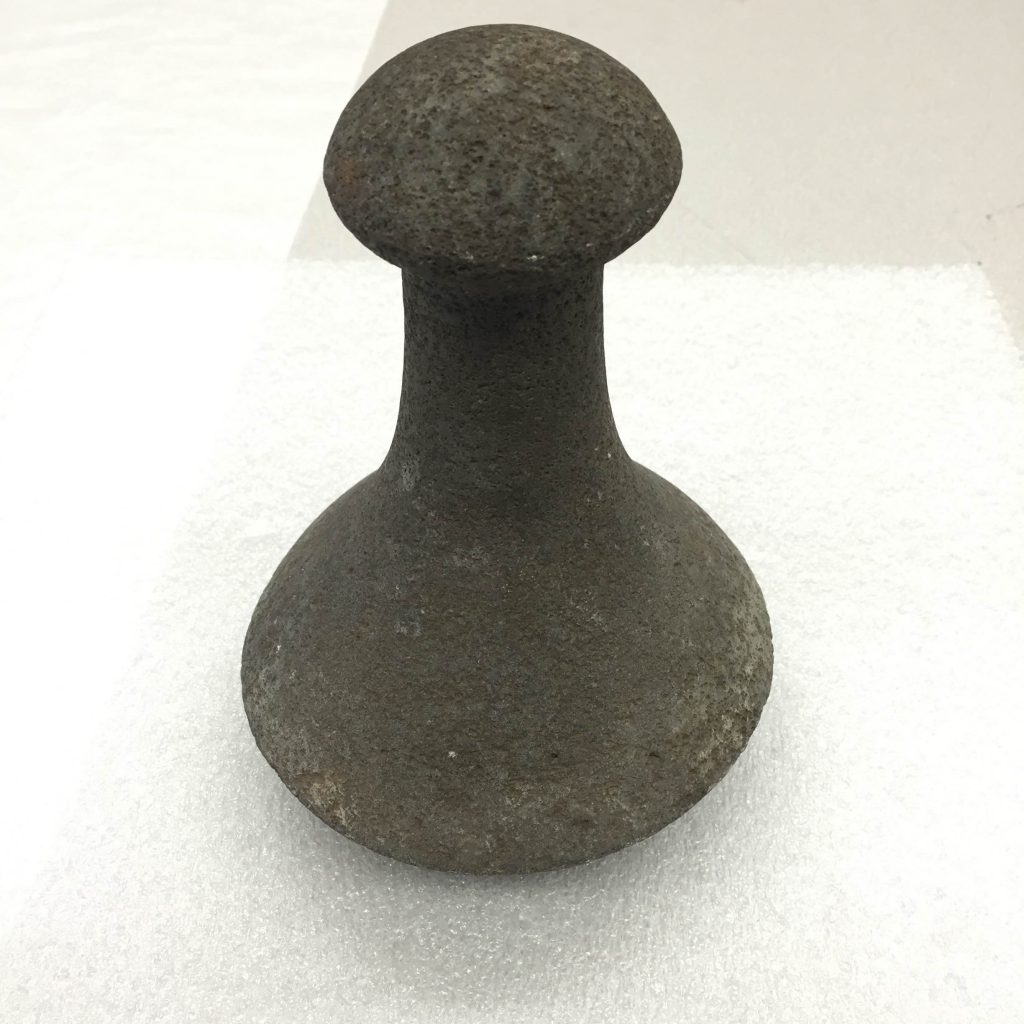 This object was used to make poi, a staple food throughout Polynesia and a common part of Hawaiian cuisine. This pounder was made of volcanic rock and stands 20 cm high. Wesleyan obtained this object in 1940 from the Bishop Museum in Honolulu, Hi. Poi (pohaku ku'i 'ai) is made by using a poi pounder to mash together baked taro against a wooden board and enough water to reach the desired consistency. The taro plant is culturally and spiritually significant to Hawaiians as well. Hawaiians believed that the taro plant was the elder brother to the very first Hawaiian that provided sustenance for his younger sibling. Therefore, care and respect in the process of growing, making, and eating taro symbolized proper relationships between family members, and between the people and the land. Through the performance of agriculture and the preparation of poi, Hawaiians were able to reflect their own temperament and character to the rest of their community. Not to mention, poi is also delicious! Read more about the cultural significance of poi to Hawaii's indigenous peoples here.
California Cooking Basket
This woven cooking basket originates from one of the Northern California indigenous tribes (Hupa, Yurok) and was most likely created between the late nineteenth and the early twentieth century. Because acorns were easy to grow and store, California tribes relied on them as a staple carbohydrate in their diet. To prepare acorns, they first had to be pounded into a meal, or fine flour. Cooking baskets were covered in acorn gruel so nothing would leak out while cooking and placed over hot rocks. Acorn meal and water was combined and boiled into a thick soup, or a version of porridge. Hungry for a quick snack? Before you run outside to grab a couple of acorns that the squirrels left behind make sure that you take the proper precautions to remove the natural tannins found in acorns! Wesleyan acquired this particular basket in 2004 as part of the Burford collection. Professor Gilbert Burford (1911 – 2002) was the E.B. Nye Professor of Chemistry Emeritus at Wesleyan University (and a Wes alum, class of 1932) where he started teaching in 1936! Professor Burford  also held a passion for Native American Indian culture and artifacts. Not only does this cooking basket provide insight into the culinary practices of Northern California indigenous tribes, the intricate weaving patterns of the basket also reflect the tribes' faculties for technology and innovation.
Cooking Vessel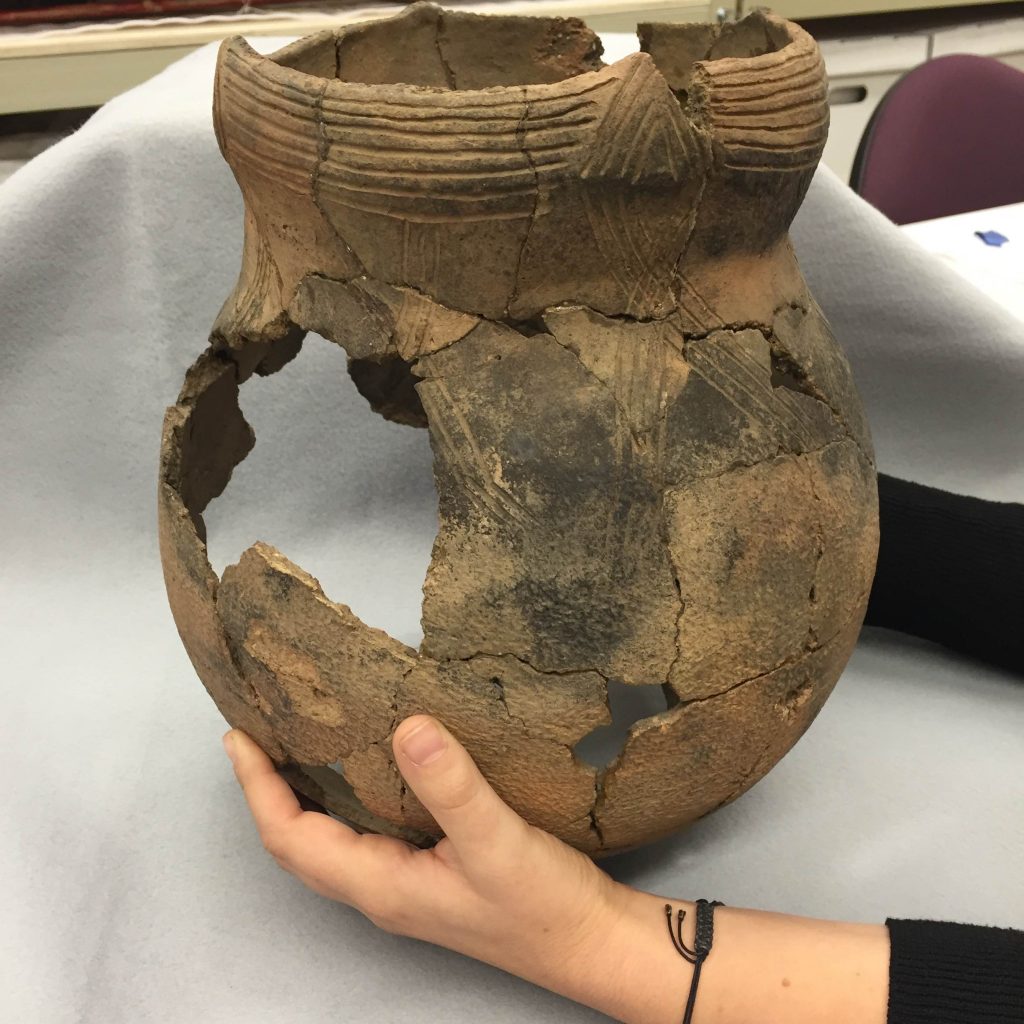 This ceramic cooking vessel was created during the Proto-Historic period, between 1400 to 1500 A.D. This particular object was excavated near Millstone, CT in 1959 and was most likely manufactured by the Nehantic or Niantic Indians. Ceramic vessels of this type were generally made out of a mixture of clay, wood ashes, and pulverized shells. This wet clay mixture was then used to line a woven basket that was dried, placed into a fire, and baked in the sun. The basket part of the vessel burned off in the fire, leaving the ceramic pot imprinted with the criss-cross design of the basket. While it is unknown exactly what kind of food was prepared in this particular cooking vessel, Native American diets consisted primarily of maize, squash, and beans. While this cooking vessel has seen better days, it is indicative of the staple foods that constituted indigenous diets and the craftsmanship of the indigenous tribes that created ceramics.
Rabbit Stick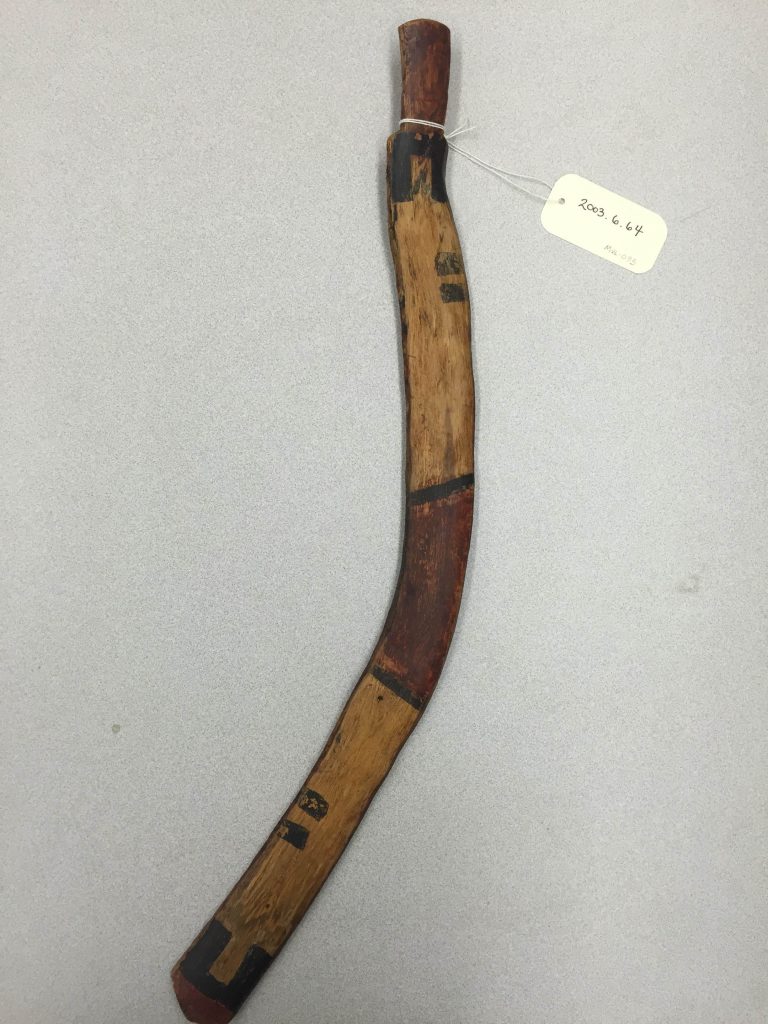 This wooden throwing stick was used by Native American tribes to hunt rabbits, squirrels, prairie dogs, fowl, and other game. This particular object is part of the Melville Collection, collected from the Hopi Mesas in Arizona. On a road trip across the country, the Melville family became acquainted with the local Hopi population and collected objects they believed provided insight and understanding to the Hopi culture. Along with plants that constituted a large part of indigenous diets, meat was also an important part of sustenance. The red and black design on this particular throwing stick represented a rabbit's feet. This object is significant because it provides insight into Native American spirituality that respected animals and believed in asking permission to take the spirit of an animal before hunting. Additionally, hunting allowed members of the community to hunt together for the needs of the community as a whole. I don't know about you, but I can hardly imagine the skill required to hunt with such an object!

It's amazing how much one object can tell us about the different histories, cultures, and practices of people around the world! The objects in this blog post are among some of the food-related artifacts that are housed at the Wesleyan Archaeology and Anthropology Collections. We hope that they provided a glimpse into the past (and perhaps will spark a conversation at your next holiday gathering)!
…and stay tuned for Part II that will focus on actual "food" from the collections!
Further Reading:
Archaeology of Food: An Encyclopedia edited by Karen Bescherer Metheny & Mary C. Beaudry (2015)
Daily Life of Native Americans from Post-Columbian through Nineteenth-century America by Alice N. Nash & Christopher Strobel (2006)

Hopis, Tewas, and the American Road edited by Willard Walker & Lydia L. Wyckoff (1983)
The Food of Paradise: Exploring Hawaii's Culinary Heritage by Rachel Laudan (1996)
Posted by Steven Chen '18